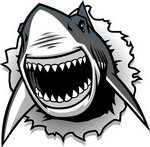 Go Sharks!
Broadway Middle School Supply List
2017-2018
Required Supplies
· Blue or black ink ballpoint pens & 4x Packs of #2 pencils
· 4x college rule spiral notebooks
· 4x folders with pockets
· 3 ring binder
· 2x highlighters of different colors
· 5x Dry erase markers
· Pencil top erasers
· Box of facial tissue for 1st Period Class
Suggested Additional Items
· Colored pencils
· Washable Markers (Sharpies/Permanent Markers are NOT allowed)
· Ruler
· Glue stick
· Small calculator
· Hand Held Pencil Sharpener
Additional Supply Information
Ø Teachers may request additional supplies for students during the year.
Ø Backpacks are used for travel to and from school only. They are not allowed in the classrooms. All students will be provided with their own locker.
Ø No electronics are allowed during school hours (cell phones, I-Pods, games, etc.).